What is 12.12 Online Fever?
The end of the year is often times synonymous with the shopping season in Singapore. Perhaps it is apt then that we begin our search now for gifts at a bargain, be it for our loved ones or even to just pamper ourselves. With discounted prices for just about everything from clothing and accessories to gadgets and gizmos, it is far too easy to be spoiled for choices.
How did it start?
The 12.12 Online Fever is said to be Southeast Asia's answer to Cyber Monday and Singles Day. Coinciding with the festive period, the event is the perfect opportunity to shop for Christmas essentials.
Led by ZALORA, the 12.12 Online Fever is part of an effort to promote e-commerce in the region. The event is a bid to integrate e-commerce collaboration to grow the entire consumer ecosystem. It is hoped that the 12.12 Online Fever can help allay fears and misconceptions around online shopping, and foster consumer confidence in online transactions.
Gradually, other merchants start to pick up on this 12.12 online fever in Singapore, and no one seems to be complaining!
Merchants to follow
1. Zalora
Given that 12.12 Online Fever is first started by Zalora, it's going to be huge. With over 500 international and local brands available, it's your opportunity to get those amazing shoes, bags and fashion apparel that you've been eyeing all year round from Zalora.
Remember, any purchase over $40 in a single receipt means delivery is free!

Shop at Zalora here.
2. Lazada
Lazada's 12.12 Online Revolution is split into 2 parts:
(1) 3 – 9 December: Collect Vouchers, Slash it!, Shake it!
(2) 10 – 12 December: Checkout Seamlessly!
3 – 9 December: Collect Vouchers, Slash it!, Shake it! 

10 – 12 December: Checkout Seamlessly! 
10 Dec: Find 2-hours exclusive offers for Apple, Acer, Converse, 3M, Levis, Bose, JBL
11 Dec: Find exclusive holiday gifts for your loved ones
12 Dec: Exciting brand offers from Fitbit, Bose, Acer, Microsoft, Samsung, Logitech and more!
Shop at Lazada here.
3. Shopee
Shopee's 12.12 sales have started! Flash deals start at $1.20, you can find vouchers up to $120 and earn up to 120K from Shopee Shake.
Shopee's 12.12 sales follow various daily themes and you'll definitely be able to find something that suit you: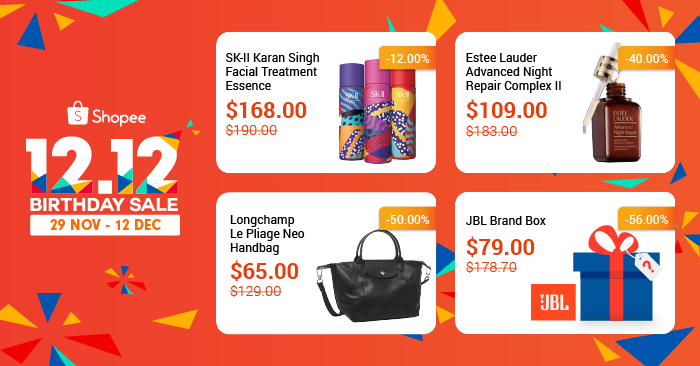 3 Dec: Kids & Babies Day 
4 Dec: Shopee Shake Day (you can shake up to 9 times a day at 12am, 9am, 11am, 1pm, 3pm, 5pm, 7pm, 9pm and 11pm.)
5 Dec: Foodies' Sale (Shopee'll also be collaborating with Tiger Beer and Chope so do keep a lookout for up to 50% off storewide discounts!)
6 Dec: Beauty Sale (deals with Laneige, Mamonde, Loreal, Hada Labo, AHC)
7 Dec: Flash Deals Day (9 flash deals slots for you at 12am, 9am, 11am, 1pm, 3pm, 5pm, 7pm, 9pm and 11pm)
8 Dec: Shopee Mart Sale (storewide discounts from Unilever, Kao, Merries, Colgate, Kleenex and more!)
9 Dec: Men's Day (storewide discounts from New Balance, HP, Marshall)
10 Dec: Shopee Mall Sale (exclusive Birthday Brand Boxes)
11 Dec: Overseas Deals Day (products from China, Korea, Taiwan, HK, Japan and Malaysia)
12 Dec: Birthday Sale
Shop at Shopee here.
4. Jetstar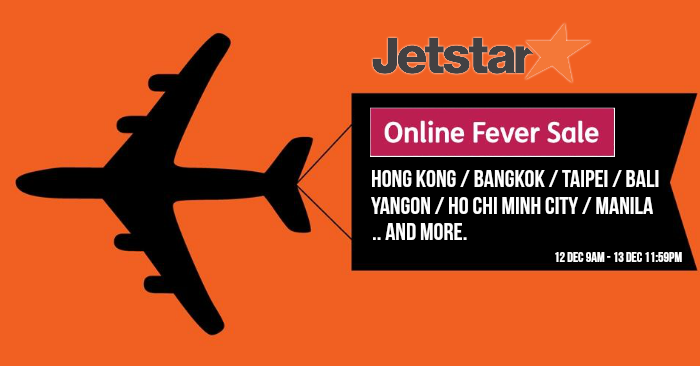 Jetstar has not announced its 12.12 Online Fever Singapore plans yet, but stay tuned!
What Happened in 2017? 
In 2017, Jetstart celebrated 12.12 with ALL-INCLUSIVE fares to over 20 destinations from S$36 one-way! Popular destinations include Hong Kong, Taipei, Bangkok, Phuket, Yangong, Manila and more!
Sales usually end by 13 Dec, 23:59 hrs, unless sold out prior.
If you're planning your getaway for 2019, be mindful of Jetstar's flyaway promos!
Shop on Jetstar here.
---
Also published on Medium.