Even after taking advantage of Amazon's free shipping and tracking all the price drops to make sure you're getting the best deals, what could possibly be wrong?
Long answer short, you're basically not shopping on the other international Amazon sites (Amazon.jp, Amazon.cn, Amazon.uk, etc).
What's so wrong about that?
Prices may be cheaper on the other Amazon sites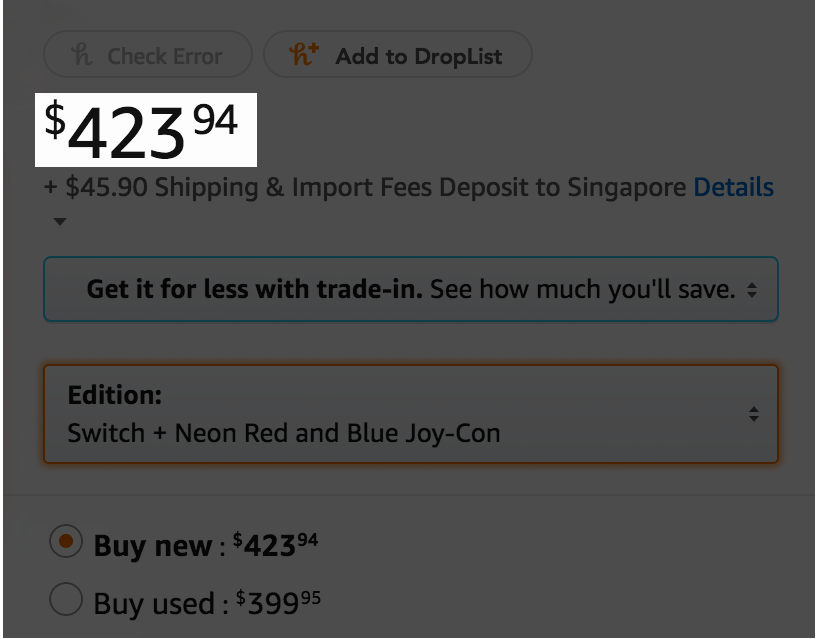 If you look for the exact same item on each website, you'll find that (surprisingly) the prices are all different. In this case, I assumed that Amazon JP would be cheaper when purchasing the Nintendo Switch, but in actual fact, the price in the UK is the cheapest, saving us about $100!
USD423 = SGD583

£279 = SGD498

44,740¥ = SGD 548
You're missing out on deals
Multiple websites mean multiple deal of the day pages. Since these deals are different for every Amazon international website, this means you'll have more deals to pick and choose from!
‍
‍
‍
‍
You don't get exclusive items
Some items can only be found in certain countries, and even if Amazon US doesn't have the Pikachu plushie that you reeeeally want to buy, you can be sure that Amazon JP will have it. Also, for all the anime fans out there, be sure to check out the figurine section because there's seriously lots of stuff that you don't want to miss.
‍
You're wasting time searching for stuff that's not there
It's tough looking for non-English books on Amazon. They never seem to have a wide enough selection, and when you finally find the book on Google after giving up, it's expensive to the point that you don't want to buy it anymore. With Amazon.cn's book selection, you'll never have to scour the internet for those books again. Not only do they have 10million over titles to choose from, you have the option of going onto Kindle and buying Chinese ebooks at ridiculously cheap prices. p.s. This works for Japanese books on Amazon.jp as well!
‍
Amazon UK is so HUGE on handmade gifts that they have a special dedicated section. Did you always find it hard to find the perfect gift? Now, not only can you send your loved ones a handmade gift, up to 60,000 sellers are able to customise your order!
Liked this post? Head over to our How to Hack Amazon post to find out about how to ship from each of the different Amazon websites to your doorstep!

---
Be part of our Special Deals Group today! Know about the latest price-drops, product reviews as well as exchange opinions on the hottest coup online!
---