Infinity Stone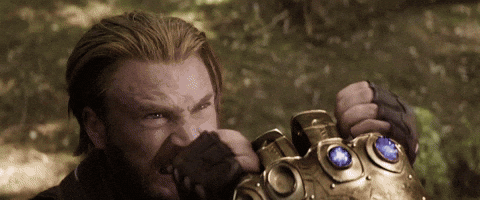 What a scam.
*Spoiler Alert* Did you watch the trailer for infinity war? We all thought trailers were supposed to be an accurate reflection of the actual movie, but, in the end, he got them all…We think we can totally do a better job at protecting the infinity stones. What do you think? Can you? Not sure? Find out which one you are most worthy of wielding by taking this quiz now.
Well, as much as we want to get our hands on the infinity stones, we can't. But we found a much more accessible alternative! Here's how you can become as powerful as Thanos with a light touch of makeup.
1. Space Stone – Tesseract
The Tesseract gives you the ability to fold space and travel anywhere you want in the universe. It went through a whole new dimension of crap, pun intended, and continued to stay strong. If you've been through a lot and is still staying strong like the Tesseract, this look is for you.
Brighten your life with this shimmery blue eye shadow and reflect the Tesseract's look on your face. Jokes aside, this product has received compliments for its intense pigmentation and soft colour from numerous bloggers. Apart from its claim to be super long-wearing, it has also been recommended for users with slightly darker skin tones!
Get It Now: Two Piece Pressed Powder Shadow USD5
2. Mind Stone – Chitauri Scepter
The Chitauri Scepter gives anyone who wields it the ability to control someone else's mind. If you're smarter and more intuitive than most, this infinity stone is definitely the one you have the power to hold.
Enhance your ability to make others smile with your cheeky words and teasing laugh by framing your eyes beautifully with this sunshine coloured eyeliner. Although this product receives mixed reviews, don't be afraid to try it. The overall sentiment is that it leaves a gorgeous colour but may break easily if your skin is too dry.
Get It Now: Punch Liner Créme Gel Liner USD5
3. Reality Stone – Aether
Aether has the power to change your reality. Are things really what it seems to be? Do you find yourself constantly wondering if we're part of a simulation? If you answered yes, then this is the infinity stone for you.
Let go of your fears and worries with this rusty red lipstick. It doesn't matter which reality you're in as long as you're happy! Add a sultry finish to your look and wear it confidently. Part of a highly raved about series, this lipstick won the Beauty Glamour Award earlier this year and offers full coverage with a single swipe.
Get It Now: Snowfleek Ultra Matte Lip USD6.50
4. Power Stone – Orb
The Orb will give anyone who finds it immense power and strength. It also seemingly destroys any organic being who comes in contact with it – humans included, duh. Competitive and simply loves a good challenge? You found the right infinity stone.
Pick up your courage and don this matte purple lipstick bravely. Not everyone dares to walk the streets looking this menacing, but if you can do it, you can do it all! Made with a scented finish, this lipstick has a good colour payoff and wasn't so opaque that the natural lip colour couldn't come through.
Get It Now: Leather Lippie Stix USD5.50
5. Time Stone – Eye of Agamotto
First featured in Doctor Strange, this infinity stone gives you the ability to not only travel through time, but also to see other parallel timelines. Too many things to do but too little time to do them? Yep, I'm talking about you.
Yes, the Fast Lane Créme Gel Liner will get you into the fast lane real quick! This eye liner offers a smooth glide for easy and comfortable application. Long lasting and travel friendly, it'll save you lots of time while you're on the go. However, if you're reaallyy on the go, you may want to consider not drawing your eyeliner at all.
Get It Now: Fast Lane Créme Gel Liner USD5
6. Soul Stone – ???
The last of the list of infinity stones to make its appearance, the soul stone is still a mystery. We don't know its name or what it can really do and we don't understand why it would take Thanos to see Gamora. C'mon, he killed her! Are you as mysterious as this infinity stone?
Wear the Check, Please lipstick and amplify the mystery surrounding you. A relatively new product from Colourpop, it doesn't have many reviews yet but has received attention from many Instagram influencers already! A mysterious product for its mysterious owner. Wear it and have everyone ask you where you got it from.
Get It Now: Check, Please Matte Lux Lipstick USD7
$5 Coupon Code, Just For You.
Have you been keeping up with us? RateX is now LIVE on Colourpop! Keep an eye out for new deals and coupon codes for this website – here's a coupon code to get you started. Download the RateX browser extension and never miss another coupon code while shopping again!
Think you can do a better job at protecting the infinity stones from Thanos? Take the quiz to find out which you are most worthy of wielding.
---
Sign up for the RateX newsletter to hear about the latest deals on Amazon, Taobao, Sephora, and other merchants! 
---
Also published on Medium.